Analytics : Active Users
Users using an app once in a day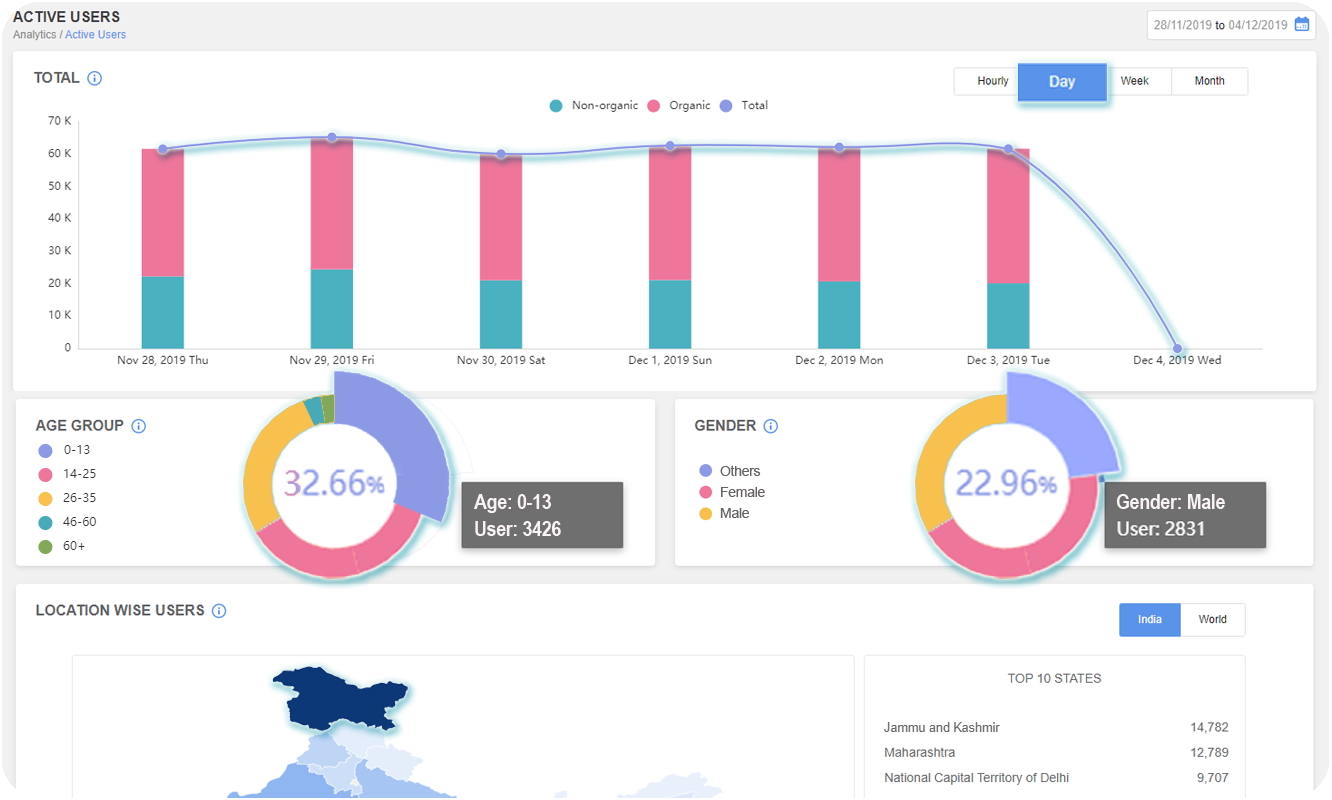 How it helps
The number of users who have opened the application at least once on a given day and are shown in real-time. AdGyde shows 4 kinds of Active Users such as:
Today: Shows the unique Daily Active Users count for today's users.
Weekly: Shows unique Active Users Count for the users who used the app once in the last 7 days.
Monthly: Shows unique Active Users from today to last month. (24*7). Unique users opening the app at least once in a specified calendar month. (Shows unique active users count for the users who used the app once in last 30 days).
Total: It shows the Sum of Daily Active Users for the selected date range.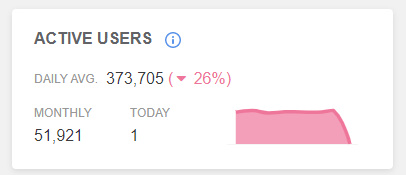 Demography & Geolocation
Demography helps in identifying the users acquired from multiple channels, campaigns based on Location drilled down to state & city level and segregated by different Age groups and Gender.
AdGyde shows the number of users who have launched the app once on a given day. We can determine the active user with respect to their age group and gender belonging to different Locations. This means that from which place the user has launched your app can be easily get tracked.
Also, we provide full transparency in the data accuracy from which Location the app has been installed by the user and from which Location the maximum and a minimum number of installs have taken place. Moreover, analysis of the state-wise number of users helps in targeting your campaign, especially where the potential is more.
Therefore, Demography is all about location and gender-wise acquired users which are shown by AdGyde. This can be only shown when the app passes to the SDK. By entirely identifying the demographic data, one can easily tailor his paid online advertisements to serve the users suiting his product.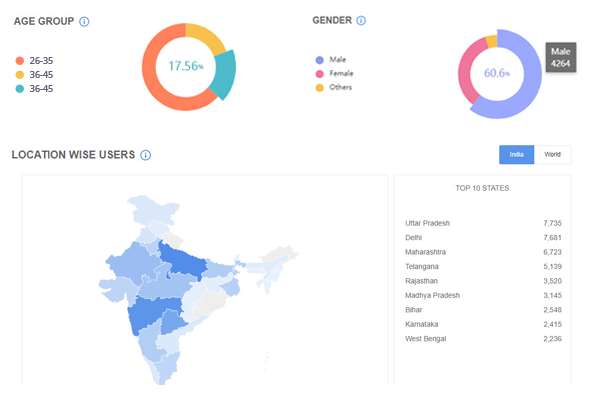 Here, Demography metrics would work better in giving a clear user wise segregation that how much males and females have downloaded the app from which age group and location do they belong. Let's suppose, E-Commerce app is downloaded by the users belonging to the 26-35 age group in which most of the users are females.
Suppose for an E-Commerce app, 20 users of age 21 use the app, 10 users of age 31 and 30 users of age 38 access the app and perform a certain task. Then, AdGyde's demographics performance data would segregate these 20, 10 and 30 users into different age groups. Also, AdGyde segregates the users in Age Group like 18-25, 25-35 and 31-38 and Gender data like Male, Female, and Others. All this data of Age and Gender can be shown only when the E-Commerce app passes the data to the SDK.
Demography analysis is beneficial for every app because it shows the segmentation of the users allowing the app marketer to know their interest level. With this, he can enhance his app to generate more potential revenue and can also know about his active users to effectively target more users.
Your awesome ideas and our analytics can exalt your business
Let's get started.