Monetization
Generate Potential Revenue with Right Strategy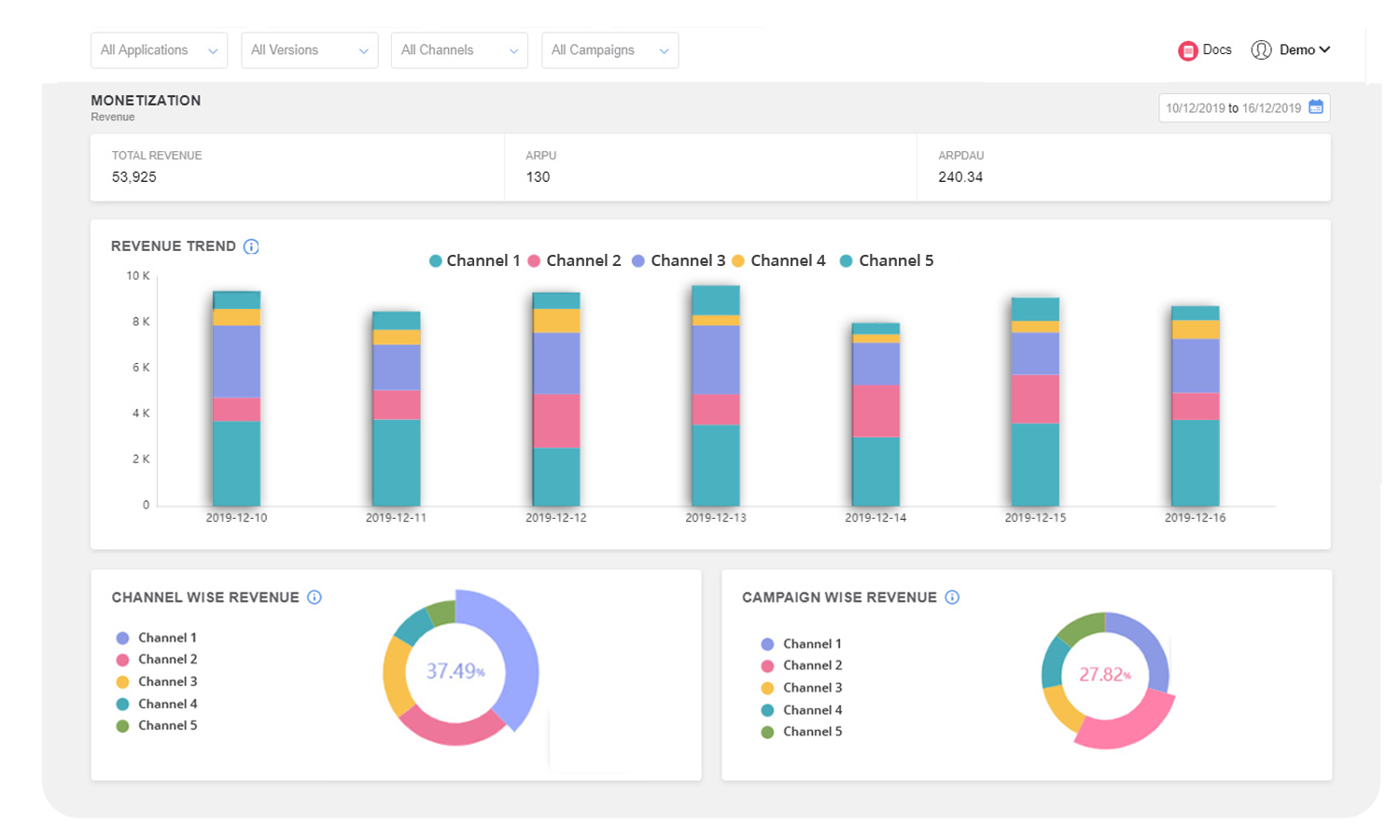 Our Features
Whatever you invest you expect the best results and outcomes from it. The same happens in the case of Monetisation. Monetization means the revenue generated after having an invested cost behind it.
For any advertisers, the most important and crucial step is to generate potential revenue with the right app monetization strategy. The fundamental component for app monetization is how a user base is leveraged in generating revenue from the app. However, the strategies for generating revenue can be different based on the app's genre such as it can be in-app purchases, some coins purchased in a gaming app, etc.
Thus, to introduce the advertisers with the generated potential revenue of their app, AdGyde helps in understanding that what cost they have invested in different partners and how much worthy revenue have been generated.
AdGyde shows two different forms of Monetisation:
In-app Revenue
Cost
In-app Revenue:
In-app Revenue showcases the generated potential revenue via any form of events wherein, events can be any purchase, transaction, coins purchased in a gaming app and a lot more. This form of revenue is considered suitable in measuring the overall performance of the campaign as well as derived ROAS.
How to setup In-App Revenue Event
Suppose the App Developer may create a new in-app purchase event on the purchase screen and creates a deep link to the purchase screen. It then starts a campaign. The user clicks on the tracking link for the in-app event and makes a purchase. The App Developer may then measure campaign performance and make suitable payments.
The App Developer generally regards in-app revenue as a suitable parameter to measure and evaluate campaign performance.
The App Developer assigns a revenue event and sets the value of Diwali Gift to Rs.50 in code
Implement the deep linking functionality in your application
Login into AdGyde Console
Create a Campaign for this promotion along with Deep Linking and Deferred Deep Linking functionality to take the user directly to Purchase screen
When User has the Application then he is taken to Purchase screen but if, a user doesn't have the installed application then, he is required to install an app and then will be taken to Purchase screen
In the dashboard, we can see the Revenue generated from this campaign
Cost
AdGyde also helps the advertiser to set up the cost of each campaign in the dashboard while creating the campaign. While setting this option, the advertiser can come to know what amount to be pay to each partner as per campaign.
How to calculate the cost?
Multiply the cost with the installs generated from a campaign
The comparison between the cost and the revenue generated through a single campaign can make it easy to judge the profitability of users acquired through the channel and campaign.
Your awesome ideas and our analytics can exalt your business
Let's get started.