Attribution : Campaign Performance
All your Campaign Data at one Place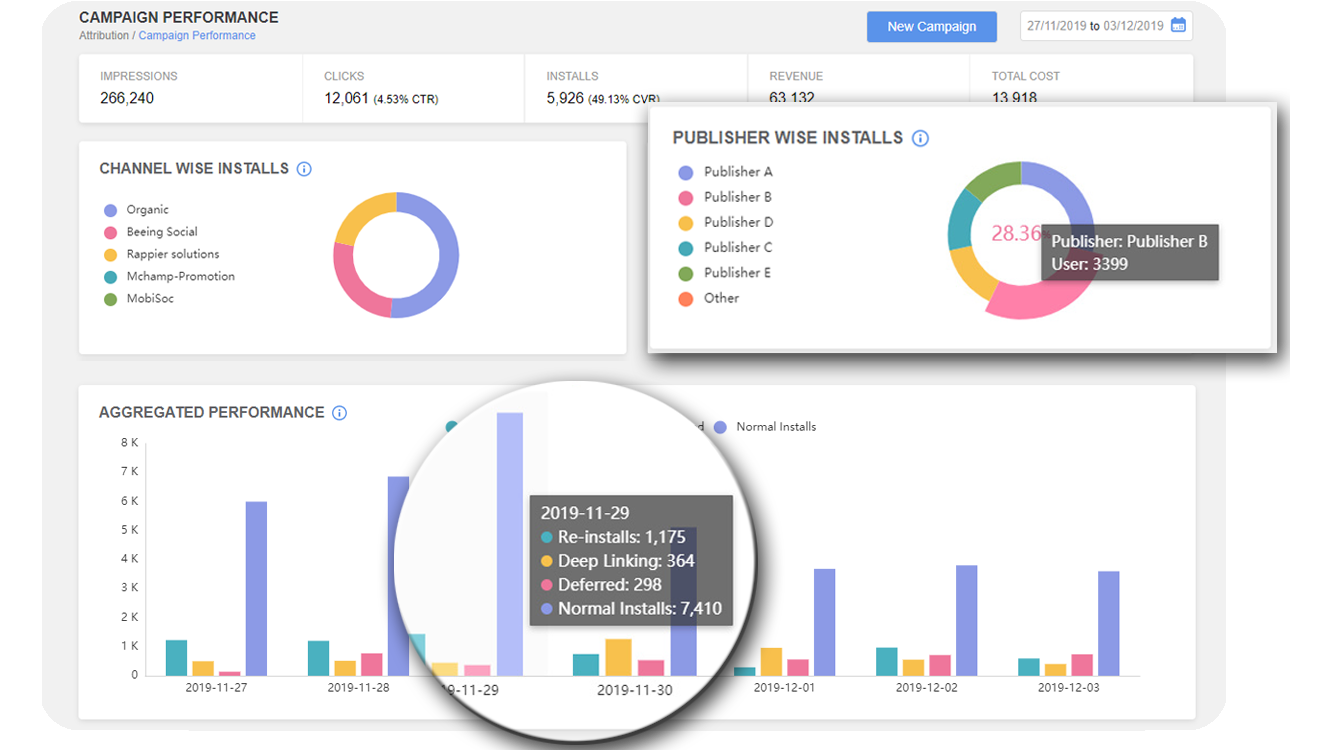 How it helps
Campaign Performance is used in analysing the data with an objective to identify the key metrics based on the campaign goals. AdGyde's key metrics majorly means Impressions, Click, New Users, Deep Linked Users, Deferred Deep Linked Users and Re-attributed installs including source.
Aggregated campaign Performance
Coming to the Aggregated Campaign Performance, it shows you the complete metrics of the campaign which include Impressions, Click, New Users, Deep Linked Users, Deferred Deep Linked Users and Re-attributed installs. Also, channel-wise new users, valuable users and cost incurred are shown completing the campaign data. Our robust dashboard would tell you that how many new users and valuable users do you acquire from different channels and campaigns including the total cost spent and total potential revenue generated.

Re-Attribution
It helps you in finding out which campaigns have successfully re-acquired your user. In simpler terms, it means if a user has installed the app from Channel 1 and uninstalled it for any reason. Again, he installs the app via another campaign from Channel 2. This entire process of installing, uninstalling and re-installing the app is termed as Re-Attribution. But the user will remain attributed to Channel 1 only and will not be counted as a new user.
New Users Per Publisher
Sub-publishers are the third-party group who buy the traffic from the publisher whereas, publisher buy it from the app marketers. This is because the motto of the app marketer is to get the install as per his set KPIs. Sub-publishers do not directly deal with the app marketer. Therefore, AdGyde plays a prominent role in discovering that from which partner/channel/publisher and sub-publisher the installs are originating or from where the app marketer is getting the installs. Thus, the network that you own, trade with further smaller network based on what is available to you.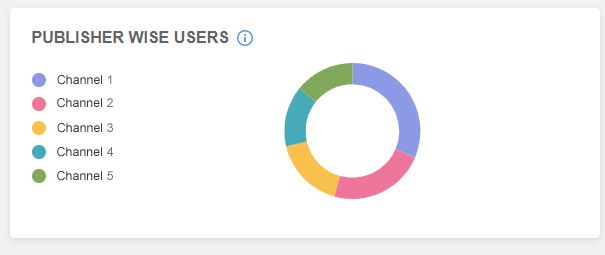 Partner Integration
Integrations with the media sources help in making easy attribution of every acquired install to its driven source. Therein, Postbacks are sent with all the essential data to the right partners and enable Deep Link or Deferred Deep Link without adding network specified SDK.
Custom Postback
Custom Postback is a revolutionary feature for the app marketers, which empowers them to decide the KPI for Post-Backs. AdGyde sends Post-Back after N Day retention, send purchase Post-Back before N Days from installs or on N Event count.
It gets hit only for legit and righteous events which are based on the KPIs prescribed by the app owner. Therefore, a Mobile Measurement platform facilitates the marketers in determining & measuring his app's performance, including his ad spends, budget and derived ROAS as well.

Your awesome ideas and our analytics can exalt your business
Let's get started.