Attribution : Uninstall Trend
Trend of the Churning Users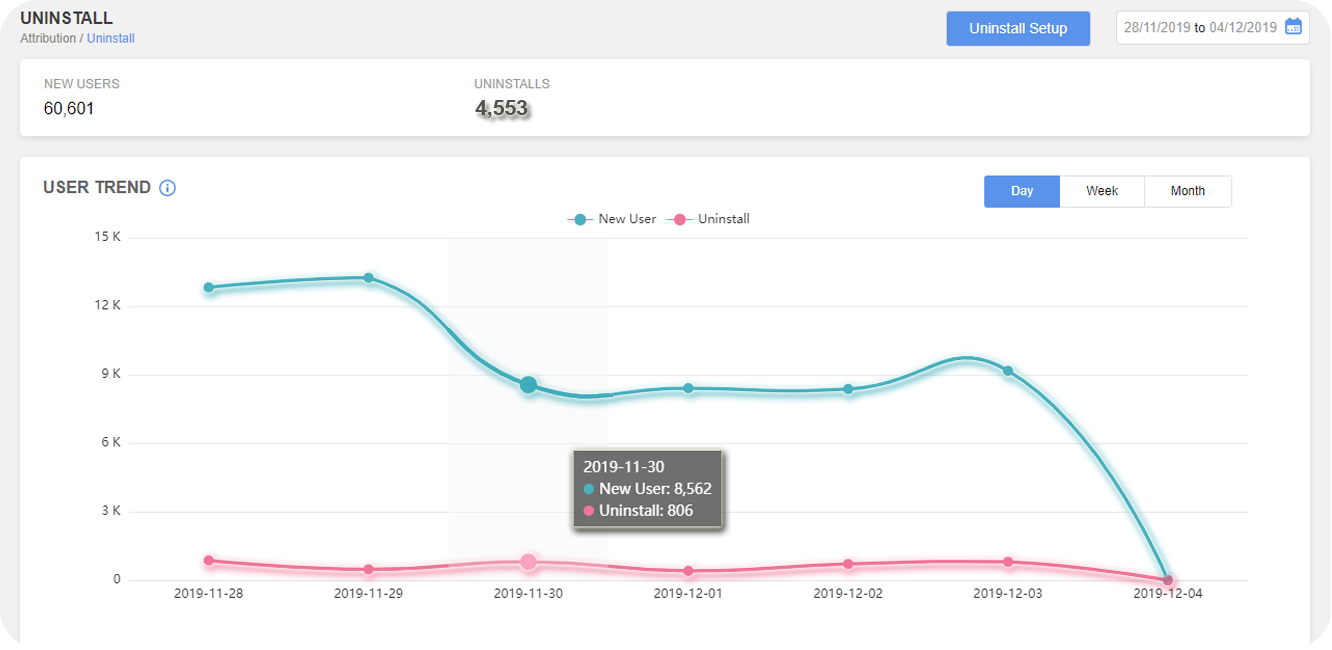 How it helps
Uninstall metrics show how many users have uninstalled the app for any of the reasons. Undoubtedly, every new user acquired or retained helps in optimizing the app's performance. AdGyde's feature of Uninstall provides the strongest insight empowering the app marketers, telling who all users have uninstalled the app including attribution to the originating source and campaign.
We tell who have uninstalled the app and from which source did they come. This would also help you in improving the user acquisition and retention explaining which network provides weak retention and is not worth investing your cost. Simultaneously, you would be able to reinvest in the campaigns that provide the highest quality retention rates.
Install v/s Uninstall
The above-mentioned image shows the differentiative presentation of Install and Uninstall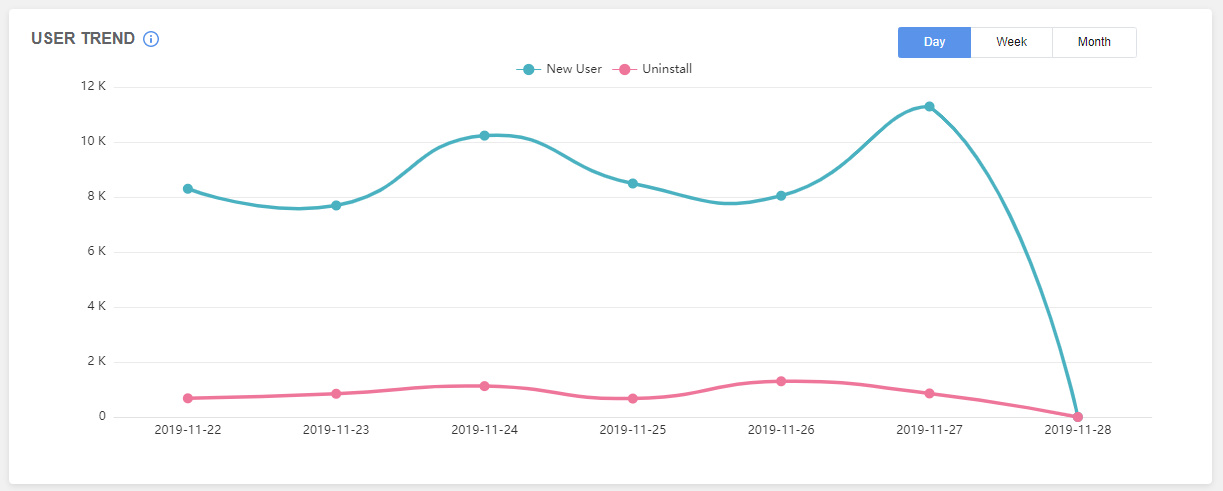 Install: Number of acquired Organic and Non-Organic New Users who have installed & launched the application of different campaigns in real-time focusing on Day, Week and Month.
Uninstall: Users who have uninstalled the application who occurred through a different channel focussing on Day, Week and Month.
Understand the concept more in detail with the help of an Example
Let's suppose, A, B, and C are the networks that help you in getting installs. You realized that network A is having high Uninstall rates, so you decided to lower your cost on network A and invest it on other networks like B and C. Or, if you see that with network C threshold of uninstalling rate has crossed, you would consider removing network C because it's not worthy in achieving your set KPI goals.
It's important to note that the app's ranking can be optimized with a high number of installs or heavy install volume and lower uninstall rates. More app installs would move up the rankings whereas, uninstall can lower it on Play Store.
Uninstall's analysis also helps in revealing the problematic user flows. Thus, we provide complete accuracy in the uninstall data to meet and achieve your KPI goals improving the app's performance that helps the app marketers in having better mobile measurements.
Uninstall Setup
Uninstall Setup is very easy to handle and manage. The image shows the easy and simpler processing of Uninstall's Setup. Please note the below-mentioned pointers that would help you in setting Uninstall for an app:
1. Click on Uninstall Setup
2. Click on Add Application FCM
3. Select the desired application and enter FCM Server Key
4. Click on Add FCM
Following all such steps, you are ready for the setup of Uninstall.

Your awesome ideas and our analytics can exalt your business
Let's get started.