Online Campaign - Tracking Installs
AdGyde Attribution and Analytics solution has integrated ad partners for mobile advertising channels; you can also attribute app installs driven by your campaigns.
AdGyde supports
CPI (Cost per Impression)
CPC (Cost per Clicks),
CPR (Cost per Registration),
CPA (Cost per Attribution)
Measuring campaigns in your Attribution Analytics account requires two things:
Add an internal partner to associate your campaigns to

Note: Partners which are already integrated with AdGyde are called Integrate Partners. In case your partner is not found in Integrated partners, please request partner to initiate integration by filling the Partner Integration Form https://www.adgyde.com/partners or ask them to contact us at support@adgyde.com


Generate a measurement URL
Online Campaign Flow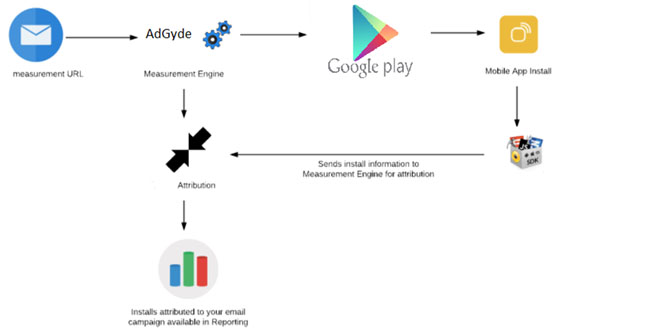 Adding a Campaign for an Internal Partner
To generate a measurement URL to use in your marketing campaign, you need to create a "Campaign" after filling in the campaign details
Add New Campaign
Login to AdGyde Dashboard
Open Setup Page from Left Navigation Menu
Click on Manage Campaigns under Campaign Tracking
Click on 'Create New Campaign' button on Top right Corner
Go to Add Campaign configurations
Selects the Application for which the campaign is required
Search and enters the Channel / Partner Name
Enters the Campaign Name
Select the desired click Attribution Window


Go to Add Channel Configurations
If you wish to associate Cost with Campaign to track your expenditure, then Select Provided by Channel and Pass same
Add extra parameters in tracking link


Go to Setup Events Postback
Select If you wish to send Install Postback for Campaign Normally and in case of Fraud
Select If you wish to send Event Postback for Campaign and in case of Fraud
Configure in-app events which will be sent to the publisher. Enter the publisher event token as event value


Go to Setup DeepLinking
If you wish to open a specific Page in case user clicks on campaign even if Application already present, then "Enable DeepLinking / Deferred DeepLinking"
Select the Scheme, Class Name for Activity and Data to be passed
Create the campaign


The Tracking Link, Impression Link and DeepLink code can be copied from Campaign details shown in next page after creation


Campaign Tracking Details
After the campaign is live, the resulting app installs driven through this campaign can be viewed in the Attribution Analytics Report under campaign performance.
Total Impressions, Clicks, Non-Organic Installs, Revenue and Total Cost
Channel Wise Installs
Publisher Wise Installs
Aggregated performance data containing

Re-Install
Deep Linking
Deferred
Normal Installs